Judy and Alan Kosloff share their passion for art and support for Vail Health.
As people enter Vail Health Hospital, a special piece of art is there to greet them outside. Installed in 2020, "Vitality" is a stunning sculpture made of fabricated stainless steel, generously commissioned and donated by the Judy and Alan Kosloff Family.
"When we helped design it, we wanted a piece that was not only welcoming but would offer help and hope," Alan explains. "We wanted people to come through the door, see that sculpture, and feel uplifted, and we think it worked."
Designed specifically for Vail Health, the sculpture was created by Gino Miles, an artist who grew up in the small farming community of Loma, Colorado. Influenced by the Colorado National Monument's rock formations and the way plants grow, Miles credits his University of Northern Colorado professors for instilling the sense of art and craft that exists in his work.
Art World Interest Leads To Special Find
Although this art piece is new, Judy and Alan's love of the arts goes back for decades. In the mid-70s, Judy and Alan lived in Kansas City, Missouri, and had a second home in Vail. While living in Kansas City, they were active in the arts community. Judy worked in development at the Nelson-Atkins Museum of Art while Alan chaired the Municipal Art Council. Today, Alan serves on the Vail Health Art Council, which selects art for Vail Health facilities.
The couple also enjoys their contemporary art collection and visiting galleries and museums whenever they travel. Always keeping up with the art community, Judy found Miles after reading a magazine story about his work. After considering a variety of sculptors, Miles was chosen and created the site-specific piece.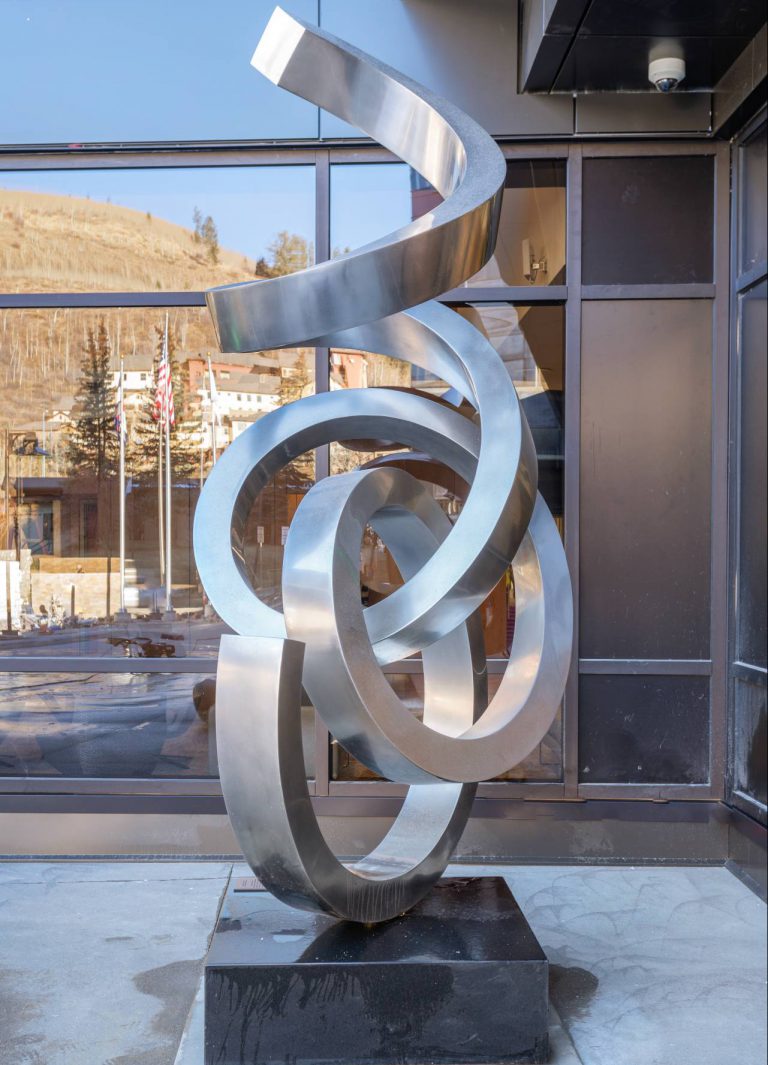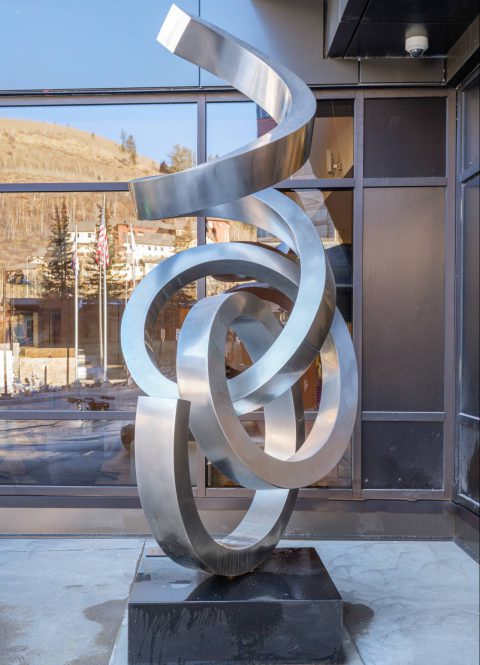 World-Class Facilities Keep Original Residents in Vail
With over 40 years of history in the Vail Valley, Judy and Alan have contributed significantly to the community through their involvement with many local causes, including Bravo! Vail, Walking Mountains, and serving on the Vail Art in Public Places Board. As contributors to the creation of the Vail Health Shaw Cancer Center and Jack's Place, a cancer caring house, they have been long-time supporters of Vail Health Foundation.
"It's really a remarkable community because there are many world-class opportunities here," Alan says. "The hospital makes it possible for Vail's original residents to stay here, and that's because of the care they offer in cardiology and other areas."
"Vail Health is a wonderful health care system, and it's really comforting to know that our granddaughter doesn't have to travel to Denver or Glenwood Springs for care because it's all close to home," adds Judy.
Serving as an intersection of their passion for art and appreciation for Vail Health, Judy and Alan are pleased that they could donate something they can see regularly at the hospital.
"Here you have an opportunity where you can give a gift while you're alive, suggest how it may be used, show the good it can do for the community, and actually see it happen," Alan adds. "I think that's great."
We wanted a piece that was not only welcoming but would offer help and hope."Alan Kosloff
If you're interested in supporting future art installations at Vail Health, please contact Amy Keller at amy.keller@vailhealth.org.