This story first appeared in the 2021 Annual Update.
"When the pandemic started and all the kids were sent home to do remote school, I watched their spirits shrink. I'm a teacher by trade, and behavioral health is a huge issue right now."
For Ann Smead and her daughter, Amy Gish, giving has become generational. Over the years, Ann has generously donated to a wide array of local initiatives, including Vail Health Foundation, Steadman Philippon Research Institute's "Together: The Campaign for a Healthy, Active Tomorrow," and Vail Health Shaw Cancer Center's Spirit of Survival program, among others. Recently, Amy has become more involved with their family's philanthropy.
"It's very easy to support something with the kind of momentum demonstrated at Vail Health and the services it provides," says Ann.
Adds Amy, "As Vail Valley residents, we are so grateful to have an amazing hospital just down the street and doctors that are part of the community."
A full-time resident since 1999, Ann has watched Vail Health's transformation from treating ski injuries to becoming a world-renowned healthcare institution. Throughout the last two decades, the hospital has expanded to respond to the community's growing needs in obstetrics, general surgery, cancer care, cardiology, and more — and philanthropy has played a significant role in this evolution.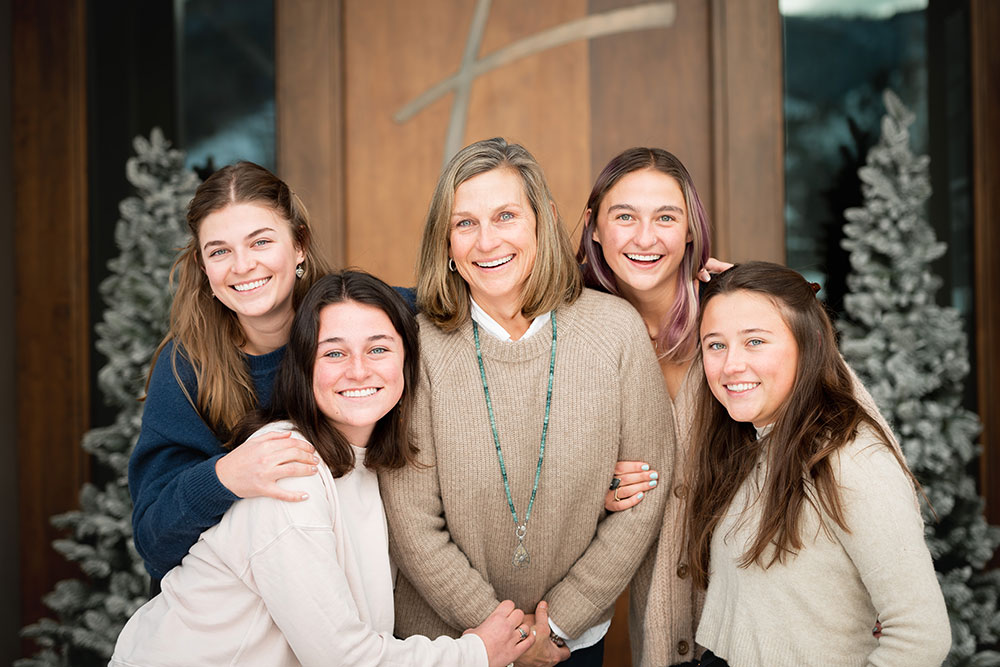 Investing in Behavioral Health
In 2021, Ann and Amy made a generous donation to Vail Health's Eagle Valley Behavioral Health (EVBH). After watching how the COVID-19 pandemic affected her teenage daughters, Amy joined the Your Hope Center Board of Directors, a community partner of EVBH, which connects individuals in need to immediate clinical support, including a 24/7 Support Line and school-based clinicians.
"When the pandemic started and all the kids were sent home to do remote school, I watched their spirits shrink. I'm a teacher by trade, and behavioral health is a huge issue right now," says Amy. "I was inspired to help however I could. We can't do enough."
Ann credits Amy with raising her awareness about behavioral health. "In my generation, we didn't talk about behavioral health. If you didn't feel well or were struggling, the attitude back then was to deal with it and move on. As I look back on it, many things may have been prevented if that attitude had been different. But that's just the way the world was back then."
New System Needed
In addition to a better understanding of behavioral health, Ann and Amy realized how vital Your Hope Center is to addressing behavioral health emergencies.
"A friend of mine had a mental health emergency before Your Hope Center started in the community. When she called 911, the police picked her up and put her in the bike storage area of the police station because that was the best they could do," Amy explains. "They didn't want to put her in a jail cell."
After hearing her friend's story, Amy was determined to ensure that it wouldn't happen again. "I wanted to make sure that no one else would have to go through a humiliating experience like that," she explains.
Small Community, Big Reach
Both Ann and Amy believe that EVBH "has an opportunity to become a national model in behavioral health, including education, awareness, and services." They also feel that the best way to accomplish this is by involving each generation in philanthropy.
"We love the idea of multigenerational engagement in philanthropy," says Ann.
"Because we are blessed to have resources, we have an obligation to support our community, and we are happy to do so."
Ann Smead
Join Amy and Anne in ensuring there are behavioral health resources available when those in our community are in need of support.