Association for Healthcare Philanthropy Congratulates Vail Health Foundation on Receiving the Inaugural Innovation in Philanthropy Award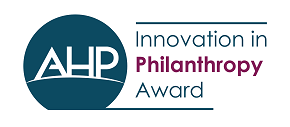 WASHINGTON, DC – The Association for Healthcare Philanthropy (AHP), an international professional association dedicated exclusively to healthcare philanthropy professionals, proudly announces Vail Health Foundation as the first recipient of the esteemed Innovation in Philanthropy Award.
The Innovation in Philanthropy Award celebrates organizations that have demonstrated remarkable ingenuity, vision, and creativity with a significant innovation in the practice of philanthropy. This newly created award recognizes exceptional innovation and groundbreaking contributions within healthcare philanthropy. After a rigorous evaluation process by a distinguished panel of experts, Vail Health Foundation emerged as the clear victor among an impressive pool of candidates.
Commenting on this outstanding achievement, Alice Ayres, president and chief executive officer at AHP, said, "I am thrilled that this year's Innovation in Philanthropy award will recognize the remarkable work of Vail Health Foundation in partnership with over 30 other non-profits to transform behavioral healthcare in the Eagle Valley of Colorado. Vail Health Foundation saw the need to lead and has dedicated both time and resources to ensure the success of a $100 million campaign. The collaboration and teamwork across this large group of organizations is a model we can all learn from and celebrate!"
"Vail Health Foundation is spearheading an innovative community fundraising model that supports not only Vail Health and Eagle Valley Behavioral Health but also dozens of nonprofits in our region. This collaborative approach is amplifying the collective impact of organizations providing crucial behavioral health programs and services," said Dan Pennington, Chief Philanthropy Officer at Vail Health Foundation.
AHP will present Vail Health Foundation with the Innovation in Philanthropy Award at the AHP Awards Dinner at the Association's International Conference in Orlando this September. Vail Health will also present an educational session about their innovative program at the conference and will be featured in the fall issue of AHP's peer-reviewed journal, Healthcare Philanthropy.
About the Association for Healthcare Philanthropy:
The Association for Healthcare Philanthropy (AHP) is the healthcare fundraising professionals' definitive source of education, networking, information, and research to elevate healthcare philanthropy. As the world's largest association for healthcare fundraising professionals, AHP represents close to 10,000 members who raise more than $8 billion each year for community health services. Its mission is to inspire, educate, and serve those transforming healthcare through philanthropy.
About Vail Health Foundation:
Vail Health Foundation elevates health across Colorado's mountain communities by generating philanthropy for Vail Health, a nonprofit community healthcare system offering one of the world's most advanced mountain hospitals, Vail Health's Eagle Valley Behavioral Health, and its affiliated entities. Vail Health Foundation is amidst It Takes A Valley: Transforming Behavioral Health, a groundbreaking $100 million campaign making significant strides toward revolutionizing Eagle Valley's behavioral health system.