"We have pictures of us all in our bee outfits, black and pink stripes, and flowers in our helmets and wings," remembers Nancy Peller. "Even Rick had wings on his back. Such a wonderful, fun day."
Nancy, the surviving wife of Rick Peller, recalls her family's involvement in Pink Vail after her husband was diagnosed with stage four prostate cancer on his birthday, August 1, 2017.
Vail Health's Pink Vail is the world's biggest ski day to conquer cancer, benefitting all patients of Harold W. & Mary Louise Shaw Cancer Center, a service of Vail Health, through funds raised. "We never knew about Pink Vail, but after Rick was diagnosed, we were front and center, sending out emails to friends and family to raise money," says Nancy.

Cancer Care Like No Other
The Pellers had lived in New York state their entire lives but found their way to Vail by their children, who had moved to the mountains to get away from city life. The couple wanted to be closer to their first expecting grandchild and decided to buy a house in the valley. They planned to travel back and forth between New York and Vail — until Rick received his diagnosis.
"We lived half an hour from New York City and certainly could have been treated there. But we didn't want to. We loved coming into Shaw, walking down the steps, and getting greeted," describes Nancy. "Everybody knew us, and we knew everybody. It was a no-brainer to be treated here."
After choosing Shaw Cancer Center, the Pellers sold their house in New York and moved to Edwards, Colorado full-time. Looking back, Nancy says that they "absolutely never regretted a minute of it."
The compassionate services and support the Pellers received from Shaw were above and beyond what they could have expected. Nancy describes how much Rick disliked going to the gym, but how the gym at Shaw became his refuge, "He was so enthusiastic to go there!" Their social worker, Erin, among many others, also played a large role in their deep appreciation for Shaw. 
Although the Pellers did not need to stay at Jack's Place, a cancer caring house, they benefited from its services for support. While Rick was in hospice care, they needed a nurse to attend to him in the evenings. During that time, the nurse was able to stay at Jack's Place for the day and easily travel to the Peller's home for the night.
Shortly after the new year, Rick lost his battle to cancer on February 18, 2019.  
'Life, if Well Lived, is Long Enough'
Nancy reflects on all the beautiful memories she shared with Rick. From the moment they met on a tennis court in New York, to the book of piano duets they would play together, to the large world map in their home filled with pushpins to mark the many places they have traveled. 
A quote from the philosopher Seneca, "Life, if well lived, is long enough," is marked on Rick's headstone in Minturn, Colorado — a quote that Nancy believes perfectly encapsulates the life he lived.
Nancy plans to continue supporting Shaw and its many programs through annual giving. "It's not just the chemo. It's not just the radiation. You really need to talk to a social worker. You really need to have a gym to go to. You really need to have a nutritionist. You need to have that support," says Nancy, "And you need to have that all in one place, which Shaw Cancer Center offers."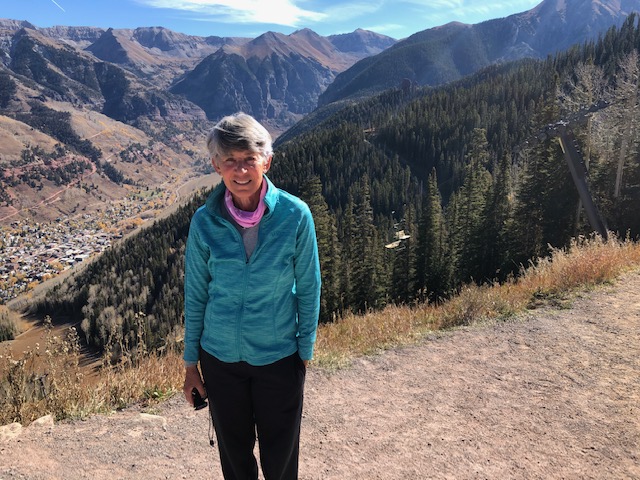 Nancy now finds her support system in her tennis and outdoor recreation groups. "One of the things, outside of Shaw, that really saved my life has been Vail Club 50. It's a group of people over age 50 that get together to do all types of outdoor sports activities and events," she describes. 
"I truly believe people move out to Colorado to live. The lifestyle is just amazing. And how lucky am I to have it," she adds.
"We loved coming into Shaw, walking down the steps, and getting greeted. Everybody knew us, and we knew everybody. It was a no-brainer to be treated here."Nancy Peller
When you give to Shaw Cancer Center, you support more than just world-class cancer care – you give the gift of compassionate support for patients and their families.