Charlotte and Kent Brittan donate $1 million to launch Speech Therapy Program at Vail Health Howard Head Sports Medicine.
The Brittan family has long served as pioneers for elevating health care in Vail. In the 1960s, Gordon Brittan stood on Bridge Street in Vail Village holding a cup and asking residents and visitors for donations to build the Vail Clinic.
"When my parents, Thelma and Gordon Brittan, moved to Vail in 1965, there was no clinic. You had to drive to Dillon for health care and to Denver for orthopaedic surgeries," says Kent Brittan. "My dad understood that Vail very much needed a real hospital facility where bones broken and tendons torn on the mountain could be healed without driving into Denver. From that point on, he and my mom devoted themselves completely to helping build that facility. At the outset, they had little idea that eventually people would fly in from all over the world to be treated there."
Thanks to the support of the Brittan family and other generous community members, Vail Clinic evolved into what is known today as Vail Health Hospital, one of the most advanced mountain healthcare systems in the world.
Decades later, Kent and his wife, Charlotte, contributed $1 million to fund the speech therapy program, which launched in November 2021 at Howard Head Sports Medicine (HHSM), a service of Vail Health. The Brittans' contribution is a blended gift, which provides immediate funding for the speech therapy program and includes an estate gift to help sustain the program into the future. 
Kent was inspired to carry on his parents' philanthropy, specifically through the HHSM speech program, because frontotemporal dementia had affected his speech. The couple hopes their donation will help people who show early signs of neurological diseases like Kent's and other disorders receive quality treatment nearby.
How the Speech Program Helps
Betty Neal, MA, CCC-SLP, and Erin Liegel, MA, CCC-SLP, form the Speech Language Pathology team. They evaluate and treat children and adults with speech, language, cognitive, voice, executive functioning, and swallowing disorders. Individualized treatment plans improve patients' ability to communicate, eat, and drink safely, and participate in everyday tasks.
Speech therapists also provide post-trauma or post-illness services within Vail Health Hospital, such as swallow studies and cognitive assessments. And, they support patients whose ability to eat or communicate has been impacted by cancer, working closely with the providers at Vail Health Shaw Cancer Center.
In addition to adult services, pediatric speech therapy is available at HHSM in Edwards. Locals like the Ramos family have already benefited: Their 2-year-old son, Carter, was recently diagnosed with autism and is currently nonverbal.
"This program is helping Carter learn communication and functional play skills, amongst other things that will help him have a successful transition into school," says Carter's mom, Brittany Ramos. "The staff at Howard Head Sports Medicine has not only helped our son, but they have helped us have new hope with the things they have taught Carter and us." HHSM has provided pediatric physical and occupational therapies for the past several years, and with the addition of speech therapy, is now able to offer a comprehensive pediatric program for the valley.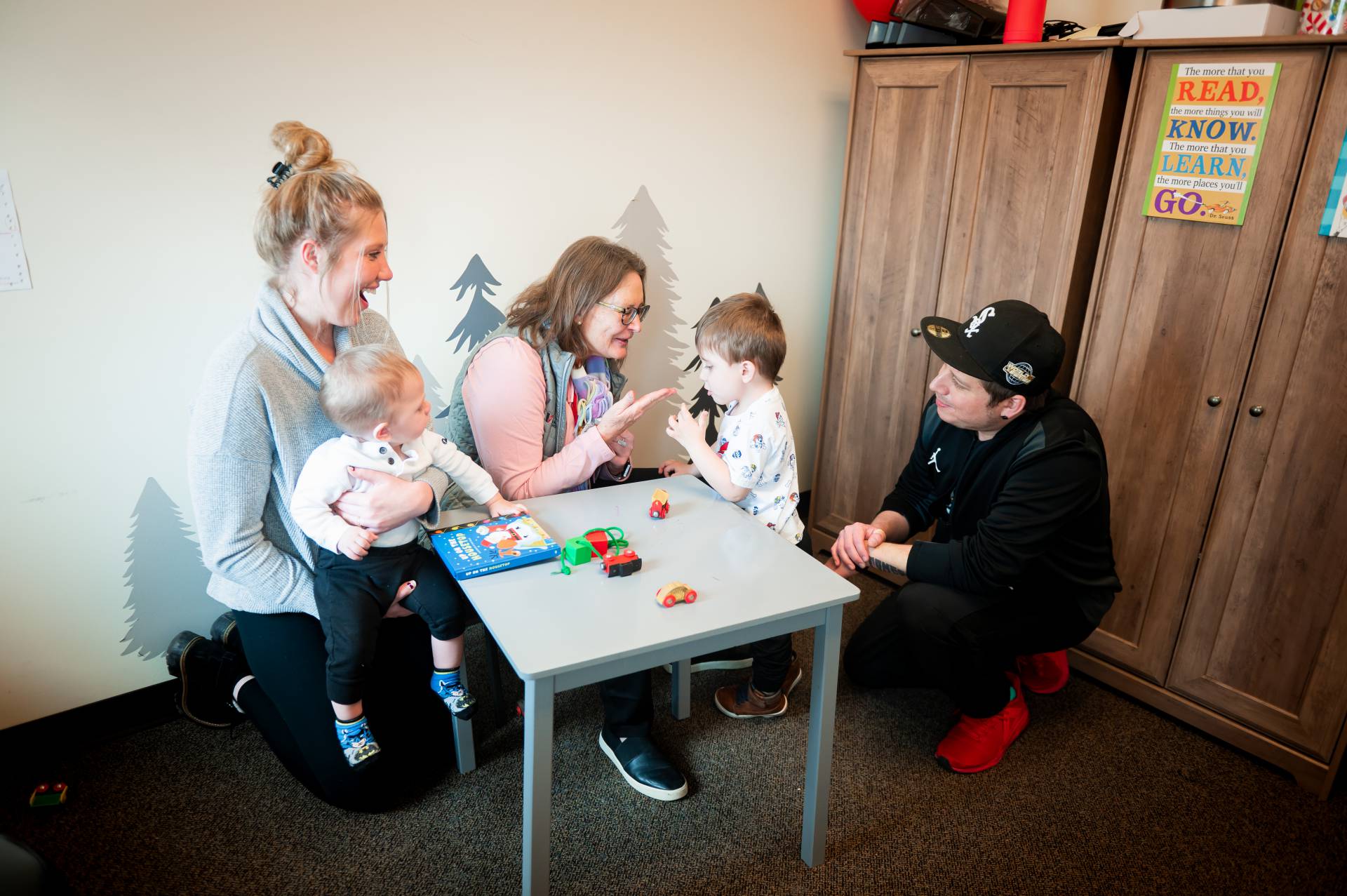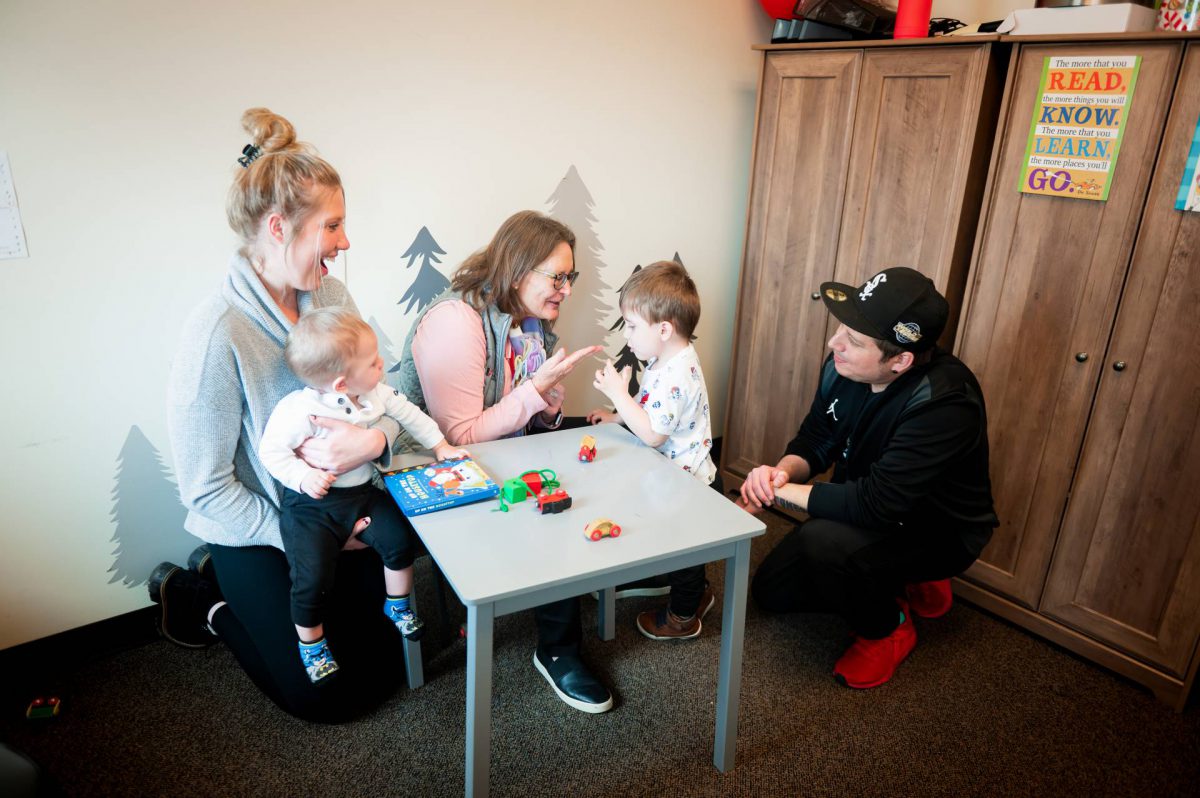 The new speech program has also benefited our community's visitors and second-homeowners. When Tony Coonrod, a Texas resident, had a stroke last summer, he wanted to remain in his Vail Valley home to receive treatment, so he began working with Erin Liegel.
"We were thrilled knowing we have one of the best speech therapists working with Tony through his recovery," says his wife, Brenda Coonrod. "Erin is fabulous in every way. Now we can stay in our mountain home and drive just a few minutes to see an excellent speech therapist."
Passing It On
Gordon and Thelma Brittan were among the first to support local medical care. "They knew supporting health care was important if our fledgling resort was going to be successful," says Dr. Jack Eck, one of Vail Health's first doctors.
 "I wanted to keep the memory of my parents alive," describes Kent, "because without their ideas, initiative, and hard work — along with all their friends — the hospital would never have been built."
"My dad understood that Vail very much needed a real hospital facility where bones broken and tendons torn on the mountain could be healed without driving into Denver."Kent Brittan
Give today to further world-class therapy at Howard Head Sports Medicine.