Vail Valley Schools Making Shields for the COVID-19 Fight
This article and photo first appeared in the Vail Daily on April 20, 2020.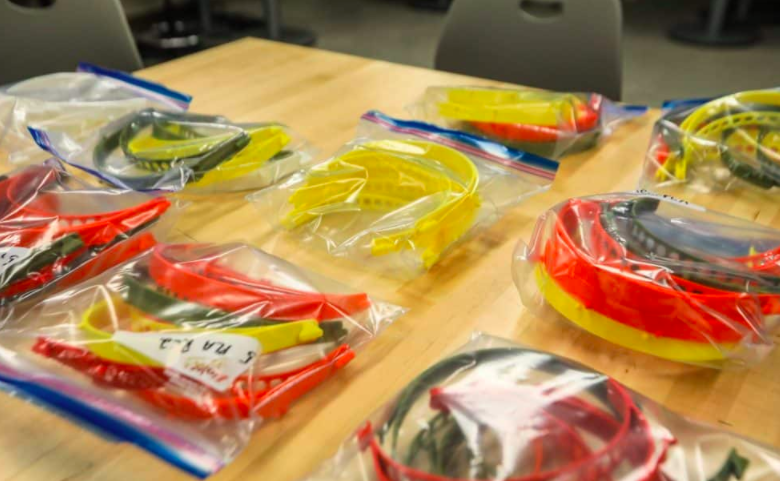 The 3D printers were idle, but the teachers were not. They run technology departments in a couple of local schools, fired up the printers and are cranking out face shields as fast as possible as part of a nationwide network of volunteers coordinating their COVID-19 fight.
Vail Christian High School's J.C. Moritz and Denea O'Neil found free models from Prusa, a Czech Republic company offering their designs to anyone in the world who wanted to copy them. Millions have, making face shields that are finding their way into the hands and onto the faces of health care workers, first responders and anyone else who needs one.
They're free, although Vail Christian is wearing out one of their machines and might have to replace it soon.
Make4COVID
About a  month ago Moritz reached out to a national group, Make4COVID, based at the University of Colorado Denver. He explained that he has access to 3D printers, he's a computer guy and maybe they could use some help.
Yes, they replied, they could.
Make4COVID started about the time COVID-19 awareness did. It's now more than 2,041 volunteers: designers, engineers, manufacturers, distribution teams.
"You have all these bright people using incredible software to try to help the supply chain," Moritz said. "It's a consolidated effort."
In about a month, Make4COVID volunteers have manufactured 16,369 pieces of personal protective equipment and has grown to include 2,041 volunteers partnering with 105 organizations.
To distribute it all, Make4COVID works with a group of volunteer pilots, Angel Flight West, that usually transports medical patients. These days they also deliver all kinds of medical gear, including the clear face shield components.
Moritz, O'Neil and others manufacture the headbands, then assemble the headbands and clear face shields and deliver them to hospitals, first responders and others who need them. They also make masks, gowns and countless other things.
"We keep these printers running 24/7," Moritz said.
Moritz and O'Neil were making all kinds of components and sending them to Denver. It occurred to them that the gear they make on the Western Slope should probably stay on the Western Slope, and most of it now does for hospitals and fire departments around the region.
"The true spirit of the Vail community has shined through during this past month, and the ingenuity of the Vail Christian High School and Vail Mountain School computer labs to create face shields is a prime example of that," said Kimberly Flynn, the safety and emergency preparedness coordinator for Vail Health. "We are grateful for their contribution, as well as that of all the countless other individuals and businesses across our community that have shown their support of Vail Health."
It hits home
The Vail Valley is many things, but most of all, it's a small community. COVID-19's shockwaves reach most of us.
Moritz coached football with Jeremy Davis, one of the local COVID victims. He knew Rod Powell and grew up with Buddy Lazier, son of Bob Lazier, who died Saturday.
So, they make protective gear as fast as they can and warehouse products in their schools. It works out well because there are no actual kids in the building.
"If we go back to school we'll have a problem, but that's a good problem. If we go back to school we're doing something right," Moritz said.