Preventing Lymphedema in our Community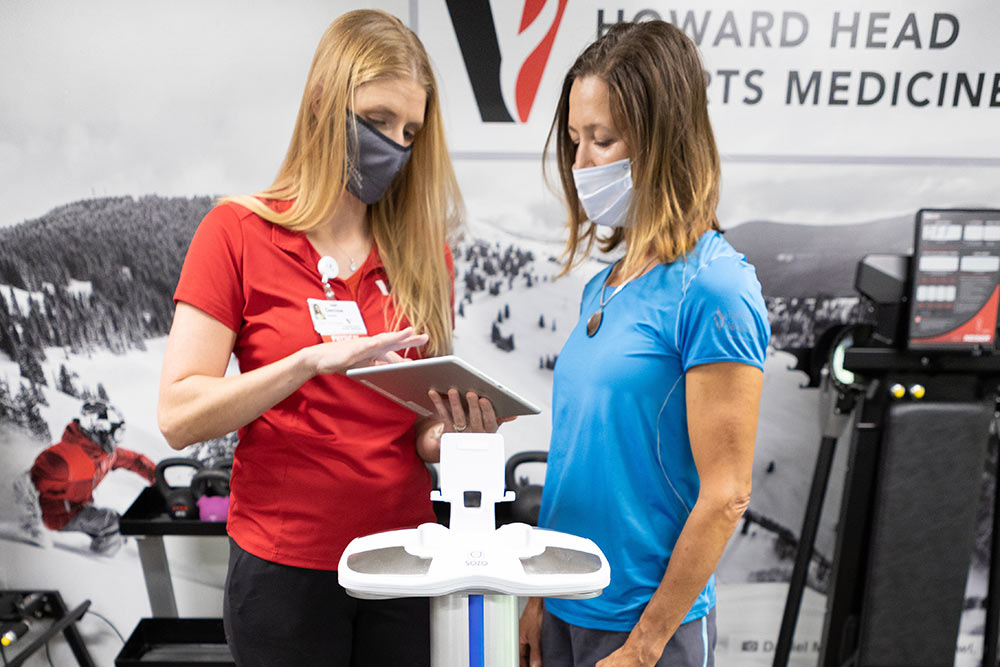 Vail Health Achieves Excellence in Lymphatic Disease Treatment
Through a collaboration between the Vail Health Clinics, Vail Health Shaw Cancer Center, and Howard Head Sports Medicine (HHSM), comprehensive care offering early lymphedema detection is now available to our mountain communities using SOZO technology.
Lymphedema is a buildup of protein-rich fluid that causes chronic inflammation and fibrosis, which leads to stiffness, pain, and loss of motion that requires chronic intervention to manage. In cancer patients, lymphedema occurs due to surgery or the side effect of radiation for therapy that can create injury, scarring, trauma, or infection of the lymphatic system.
There are 17 million cancer survivors in the United States, with nearly 1.8 million new cancer patient diagnoses this year. Of the 975,000 cancer patients at risk for developing lymphedema, one in three will develop the disease, making it one of the most feared consequences of cancer survivorship.
Resnicks Fund Critical Devices for Lymphedema Prevention
Early detection helps reduce a person's risk of getting lifelong lymphedema by testing for early stages of lymphedema to reverse it prior to symptom onset.
Previously, patients were given education and signs to watch out for during physician visits and physical therapy pre- and post-operative visits. However, once symptoms are present, there are irreversible changes to the tissue, which become a lifelong issue to manage.
Thanks to a generous donation from Sara and Eric Resnick, given in honor of their friend Mike Shannon, Vail Health acquired seven machines with non-invasive technology called SOZO in November 2021. The devices use bioimpedance spectroscopy to help detect lymphedema at its earliest stages. The test is painless and only takes 30 seconds to complete.
The devices are available across Summit and Eagle counties at Vail Health's oncology offices, in the hospital, and at each Howard Head Sports Medicine location, where there are four Certified Lymphatic Therapists on staff. Vail Health is the only facility that has SOZO technology from Denver to Salt Lake City.
Recognition for Excellence in Lymphatic Disease Treatment
SOZO provides a lymphedema measurement called the L-Dex score. The L-Dex score helps healthcare providers determine if their patient is getting lymphedema before they feel or see any signs or symptoms. This early alert allows patients to take steps to stop lymphedema from getting worse — or to avoid getting it at all.
To date, 128 patients at risk for developing lymphedema have received the L-Dex scan, and they are now on a protocol for continual monitoring with their providers until they are through the initial risk phase of three years.
In addition, SOZO can read muscle mass, fat mass, and whether the fluid is inside or outside the cells. This, in turn, helps determine a patient's nutrition status and if they are gaining muscle, which is important for physical therapy and for overall health and wellness.
"From my standpoint as a doctor, I want to keep people in a zone where they're not gaining weight because that can increase the risk of cancer recurrence," says Dr. Julie Barone, a breast cancer surgeon at Vail Health.
"Sometimes it's tough because metabolism can shift after medication and surgery. That's where we have a team approach between Shaw Cancer Center, HHSM, and our nutritionists," adds Dr. Barone, "We can develop a program specific to our patients that benefits them, and this machine is helping with that."
Because of this multidisciplinary work and the utilization of SOZO technology, Vail Health was awarded Lymphatic Education & Research Network's Referral Network of Excellence designation. This designation indicates that Vail Health can provide high-level, collaborative, and innovative care to patients suffering from Lymphatic Disease.
Since acquiring it, SOZO has increased access and greatly diminished fear and anxiety levels while improving the quality of life for our cancer patients so they can return to the activities they love most.