Your Hope Center Records Go Digital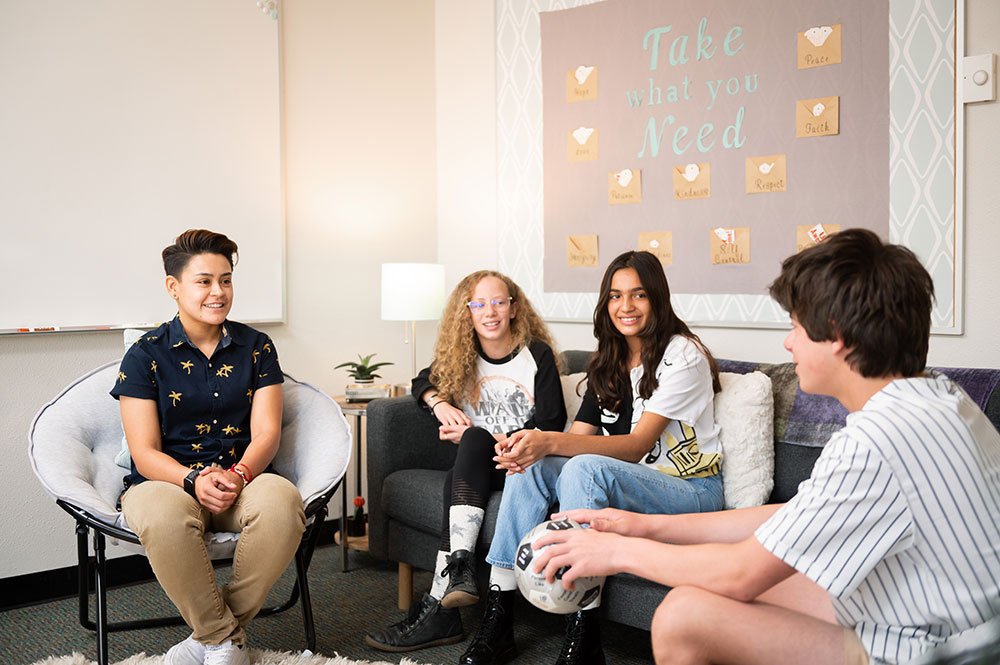 This story first appeared in the 2021 It Takes A Valley Campaign Report.
Philanthropy Improves Patient Care, Outcomes, and Safety
Collaborative care enlists the expertise of multiple professionals, including behavioral health providers, organizational partners, first responders, family members, specialists, and in the case of students, school-based clinicians. This type of wraparound care is most effective when the team can share knowledge on goals, diagnosis, and treatment plans.
With the creation and subsequent growth of Your Hope Center, formerly Hope Center of the Eagle River Valley, they needed a more streamlined system of documentation. Electronic health records (EHR) held the answer. EHR collects the data of the community members served by Your Hope Center, both in school-based programs and the mobile crisis response program and can significantly improve the quality of care.
Paving a Path for EHR
Doug Williams is always looking for opportunities to make a difference. "That difference can be getting my hands dirty and getting involved; it can be writing a check, whatever it is, it's all-important," he says.
Doug is Chief Operating Officer and Partner at Webster Equity Partners, which owns and operates Discovery Behavioral Health, a leading provider of evidence-based behavioral health care. In 2019, to help with community behavioral health work, Doug met with Vail Health's Eagle Valley Behavioral Health (EVBH) to share his knowledge around EHRs and billing for insurance reimbursements.
In 2020, Vail Health, EVBH, Eagle County Paramedic Services, and Your Hope Center partnered to pioneer an integrated program to support community members in crisis and school-based behavioral health services. An EHR was critical to the success of this program to ensure seamless care for Your Hope Center's clients, and to collect and code information for Medicaid and insurance reimbursements. Doug connected Your Hope Center directly with the leadership of Discovery Behavioral Health to identify their specific needs and explore options to find the right EHR for the community-based program.
Generational Giving Supports the Adoption of EHR
Concern for youth sparked Amy Gish's passion for behavioral health. "When the pandemic started and all the kids were sent home to do remote school, I watched their spirits shrink and realized how important behavioral health is," says Amy, a Your Hope Center Board member.
Amy voiced those concerns to her mother, Ann Smead. "It was really Amy getting me more involved and raising my awareness. In my generation, you didn't talk about mental health," explains Ann, an Honorary Co-Chair of It Takes A Valley: Transforming Behavioral Health.
In spring 2021, the mother and daughter team heard about Your Hope Center's interest in adopting and implementing EHR. In an inspiring example of generational giving, they graciously provided a $100,000 challenge gift to support the project.
A few months later, Carrie Benway, Executive Director of Your Hope Center, met with Doug to discuss his interest in helping them meet Ann Smead and Amy Gish's challenge to implement EHR before year's end. Doug was enthusiastic and met the challenge, which directly resulted in Your Hope Center's launch of EHR in August 2021.
"When Your Hope Center talked to me about the initiative, it made sense, as we've seen the success in the investment in our own company," says Doug. "It was something that I was very supportive of and wanted to happen for Your Hope Center."
Enhanced Care for Patients
"The reason this electronic health record system is so important for our community is that it enables our team to deliver the highest level of quality care to best support the individual we're seeing," says Carrie. The team at Your Hope Center took on the intensive training process with enthusiasm, learning a new system to serve the community better. The new EHR helps streamline patient care and increases the level of clinical support.
"Adopting EHR really increases our level of expertise — that skill building — to do full, comprehensive evaluations to create treatment plans, develop diagnoses when appropriate, and help better direct treatment services. It also assists in documenting the amazing amount of case management our team does to help connect an individual in need with a variety of other partners," says Dr. Theresa Haynes, Clinical Director at Your Hope Center.