Young Residents Fundraise for Better Behavioral Health
Kian Worcester, who recently turned 26, wanted to create a fundraiser for Olivia's Fund by shaving his mass of brown hair. 
Originally from Columbus, Ohio, Kian came to Vail for the ski season two years ago and now works six months out of the year for Vail Resorts as the Supervisor for Golden Peak Adults at Vail Ski & Snowboard School. He aims to settle in Vail when his position grows to 10 months out of the year. 
Kian was contemplating fundraising for mental health when a ski instructor mentioned Vail Health's growing investments in behavioral health.
After further research, Vail Health's Eagle Valley Behavioral Health (EVBH) aligned with his head-shaving fundraiser as a worthy cause. EVBH's Olivia's Fund scholarship offers six free visits with a licensed behavioral health clinician for Eagle County residents or workers, which resonated with Kian for several reasons.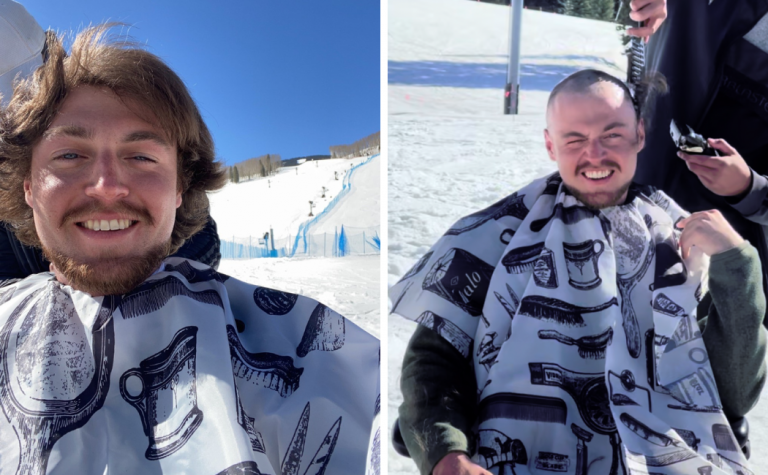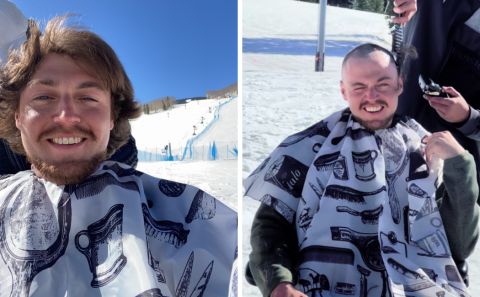 The Need for Behavioral Health Awareness and Access to Care
In Kian's brief time in Vail, he has seen the need to improve behavioral health awareness and resources. "This is a beautiful area, a destination spot, so why is mental health so bad here?" he says. 
Kian's passion for mental health stems from when he struggled with depression in eighth grade. He can identify with navigating life's ups and downs.
"Taking care of your mental health is crucial because it impacts everyone," he explains. "Being a seasonal worker, I understand it's hard to make it out here, so Olivia's Fund can help many people receive the behavioral health care they need."
After meeting his goal of raising $2,000 in eight days, his fundraiser, Clear Your Hair, Clear Your Mind for Olivia's Fund, has now surpassed $4,000 from over 65 donations. He fulfilled his promise to shave his head on the last day of the ski season, Sunday, April 16, 2023.
Local Teens Shine the Light on Behavioral Health Awareness
Kian is part of a growing number of mental health champions in our community; the Vail Christian High School boys and girls basketball teams raised $1,500 for Olivia's Fund this past February. 
Vail Health Board member Ellen Moritz's son was a player on the basketball team participating in the game dedicated to mental health awareness. Ellen shares, "Unfortunately, it's an issue that has affected our children. It felt good to do a fundraiser and talk about mental health."
The boys' basketball team captain, Andre Skweir, knew Olivia Ortega, the teen who is the namesake of the Olivia's Fund scholarship. Olivia and Andre met in kindergarten and were friends until she moved to another school in fifth grade. Olivia would have been a high school senior this year had she not tragically ended her life in February 2018.
Vail Christian High School's basketball fundraiser was within a week of what would've been Olivia's 18th birthday.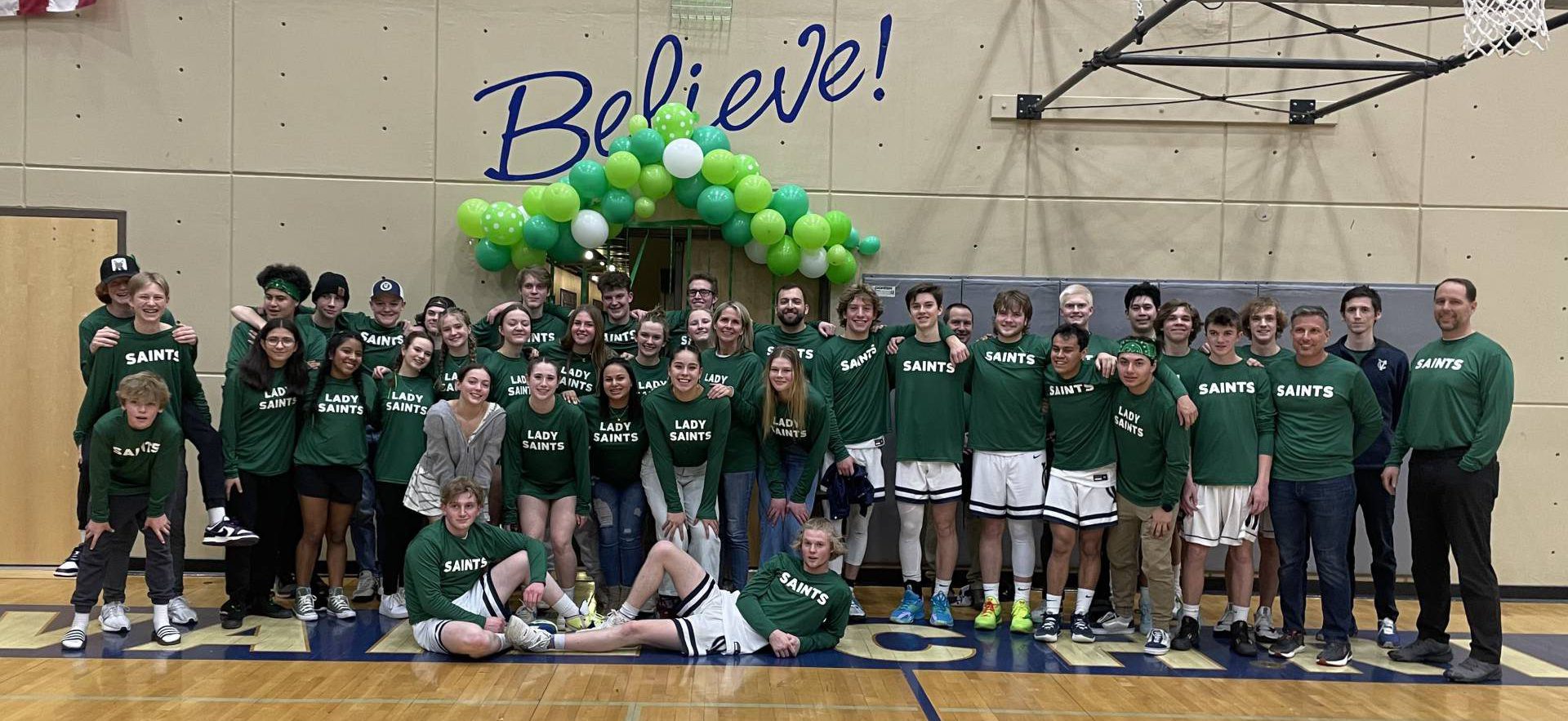 Approximately 200 players, students, parents, and attendees gathered for the fundraising game. Andre delivered a heartfelt speech, citing his connection to Olivia and why mental health is so important. Students and parents decorated the gym with posters, signs, and balloons and circulated information about behavioral health resources available in the Vail Valley. The event featured a half-court shooting contest fundraiser, which was won by an eighth grader. Everyone wore green for mental health awareness, despite it deviating from Vail Christian's school color of navy blue. 
Unfortunately, 24 days after this commemorative game, Andre lost another friend and local teen, Kellen Collins, to suicide. 
Andre recalled losing Olivia, Kellen, and an attempt by another high school friend in April. "I wish everyone knew how much they truly are loved and that it didn't take these tragedies to break the stigma for others suffering to admit they need help."
Andre postulates that teenage males are especially vulnerable to behavioral health issues given the societal pressure to suppress their emotions. He surmises that social media causes today's teens more stress and anxiety than previous generations.
A bright side of these unfortunate losses is that people feel more comfortable expressing their emotions and asking for help. Andre relayed he's recently had more deep talks compared to his four years in high school. 
Andre says this fundraiser, along with a larger one he helped Kellen Collins' family with that raised over $50,000, not only helped them cope with the grief but also brought everyone together. Andre said, "Now everybody knows Kellen's story, and it's more acceptable for people to talk about how they truly feel."
Olivia's Fund Provides Access to Needed Behavioral Health Care
In December 2019, Vail Health Foundation launched It Takes A Valley: Transforming Behavioral Health to raise $100 million, which brings Vail Health's total investment in behavioral health to $160 million. To date, over $78.5 million has been raised for the campaign. 
"I think people are talking more openly about seeking behavioral health treatment since Vail Health invested in the community, and the strides made in behavioral health services have made a difference," said Ellen Moritz.
In 2022, Olivia's Fund paid for over 3,400 counseling sessions, totaling $426,780 in support. Of those sessions, 240 were in Spanish. There were 750 unique patient requests from 98 providers who work with Olivia's Fund scholarship recipients. So far, this year has seen similar usage. In March alone, 137 patients benefited from 246 sessions. 
If you or someone you know needs behavioral health care, please visit vailhealthbh.org to find a therapist, a peer support group, and crisis response information. 
To learn more about supporting the It Takes A Valley campaign and Olivia's Fund, or creating a fundraiser, contact Emily McGavin at emily.mcgavin@vailhealth.org or (970) 569-7766.