Caring for More Hearts at Vail Health
This article first appeared in Vail Health Foundation's 2019 Annual Report.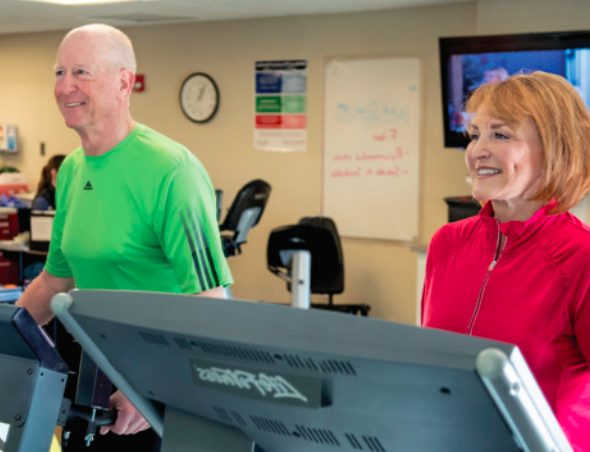 The support of our generous benefactors has enabled Vail Health to expand staffing at our cardiovascular centers in both Eagle and Frisco to better serve residents and visitors in Eagle and Summit counties.
More Appointments, Availability, and Convenient Care
"We are the only cardiology service in the region, so it was really important that we got out into the community, closer to all of our residents' homes," said Stephanie Kearney, Vice President of Ambulatory and Outpatient Services.
The cardiovascular center at Frisco Specialty Clinic is open two days a month, during which time Dr. Jonathan Sherman sees patients.
Your gifts have also made it possible for us to purchase additional cardiac testing equipment. Our cardiovascular centers have added treadmills and echo technology to conduct stress tests and EKGs – something that used to be available only at the Vail campus.
Our goal is to continue expanding cardiac testing equipment to even more campuses.
"We have a good number of patients in Summit County, Glenwood Springs and down valley, so this is definitely helping us serve a wider area," Kearney said.
Quick, Reliable Device Troubleshooting
The cardiovascular center in Vail has also benefited from expanded cardiology services.
By hiring a part-time physician assistant, we now offer additional appointments for routine cardiac device testing and troubleshooting.
This common need among cardiac patients can only be met by a healthcare professional who has specialized training in and knowledge of cardiac devices. Our cardiologists are often busy performing procedures, which reduces their availability to take device-testing appointments.
"We used to have to bring in a representative from the device company from Denver for routine checks and to troubleshoot patients' cardiac devices. Now, I'm able to provide this service and serve our patients," said Sonja Fauchet, PA.
Today, our patients can expect quick, reliable device troubleshooting and routine testing whenever they come in for their appointment.
"Expanding our capacity across Eagle and Summit Counties has helped us get rid of the heavy bottleneck of appointments in Vail and serve more patients. There are more appointment options, and we can help with continuing care throughout the community," says Stephanie Kearney.